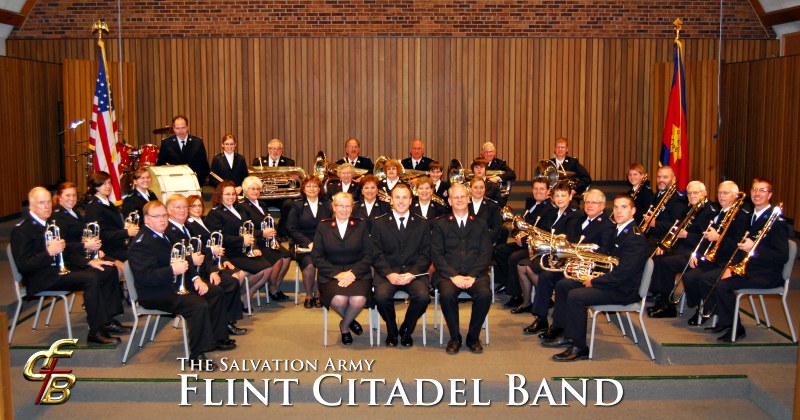 A Special Message From Our Pastors...

Welcome to the Flint Citadel Band website. This website was created back in August 1999 for the purpose of expanding the impact of ministry of this great corps band. Bandmaster Matthew Rowland and the members of the Flint Citadel Band invite you to experience the ministry of this band as we continue into our second century of service to Jesus Christ.
Drawn from the soldiers of the Flint Citadel and ranging in age from teenagers to folks in their golden years, the members of this band love brass music...but their true love is for the Lord Jesus Christ. The commitment of this band is to provide music to enhance our worship 52 Sundays a year and to share this God-honoring music with as many people as possible. For this reason you cannot buy a copy of our music...it's free! On this site you will find downloads and streaming content so you can share in the blessing.
So enjoy the heritage and music of the Flint Citadel Band, but more importantly give praise and glory to our Lord Jesus Christ who inspires this music.
Blessings!
This year, our youth group, Weapons of Mass Salvation (WOMS), will be providing lunch following the Holiness Meeting, prior to our Spring Concert. This will be a fund-raiser for the WOMS youth group.
The menu will include chicken with stuffing, green beans, salad, bread and dessert. A separate children's meal will be provided. The WOMS youth will be serving this meal to your table providing you with an enjoyable dining experience.
Tickets purchased in advance:

$8 for Adults 18+
$4 for ages 4-17
Children 0-3 are free
Tickets purchased at the door:

$9 for Adults 18+
$5 for ages 4-17
Children 0-3 will still be free.
Please purchase your tickets in advance so we can plan how much food to prepare. Tickets will be available beginning Sunday, May 3, from any of the following WOMS members: Bethany Augenstein, Melody Bamford, Caleb Carter, Calli Carter, Casey Carter, Colin Himes, Josie Himes, Hillary Parker, Jeremy Parker, Chelsea Schmidt, Randal Smith, Selena Smith, Noah Somers, Kerri Thomas, or Kyle Thomas.
If you have any questions, contact us via email, or call 810-232-2199.